A local leader in the civil engineering and land surveying industry for 18 years, Sullivan Engineering & Consulting, Inc. is a full-service firm that manages projects from initial concept to final permitting and beyond. Having partnered with clients across Cape Cod, the South Shore, and the Islands, we bring years of experience and a broad portfolio of top-quality commercial and residential site design and construction projects to each job we undertake.
At SECI, we offer engineering and consulting services in Land Surveying, Civil Engineering, Septic Design, Marine and Coastal Engineering, Environmental Permitting, and Construction Support. From shorefronts to parking lots, from large-scale to small, we have the expertise to manage the design, planning, and construction of projects at the town, state, and federal level.
Committed to staying in step with new technologies and innovations, our engineers regularly engage in trainings and other professional development opportunities in order to better serve our clients. We are proficient in AutoCAD, Flow Master, Surveyors Total Station, Odom Hydrographic Surveying, and Trimble RTK Survey Hypack. SECI is licensed and fully insured.
Located in Osterville and founded as Sullivan Engineering, Inc. in 1997 by Peter and Paula Sullivan, SECI is now owned and operated by John and Leah O'Dea, who, like the Sullivans, believe that a strong, family-run business has the unique ability to service the local community because of its knowledge of the region and its long-term commitment to its neighbors. John, a Registered Professional Engineer and a 15-year employee of SEI, brings a forward-thinking approach to all aspects of projects in his role as president of the firm.
We look forward to meeting with you and guiding you through each phase of your engineering needs.
John O'Dea, P.E.
Owner & President
Having been a member of the Sullivan Engineering team since 2000, and a Senior Civil Engineer at since 2009, John brings not only his experience and expertise to each project the firm undertakes, but also a unique understanding of the region's environmental landscape and local regulations. A leader with a strong visionary capacity, John specializes in seeing the entire scope of a project from its inception, and strategizing effectively with clients to achieve their desired outcome. He personally oversees all of SECI's residential and commercial projects, from feasibility and site research, to design, to implementation and evaluation, to final permit.
John earned a B.S. in Civil Engineering from Vanderbilt University in 2000. He is a Registered Professional Engineer, Certified Soil Evaluator, Massachusetts Certified Construction Supervisor, and a member of the ASCE (American Society of Civil Engineers). A summer resident of Cape Cod his entire life, John has lived on the Cape permanently since 2000 when he began his career at SEI. He resides in Falmouth with his two sons and his wife, Leah, SEI's permit specialist & office manager. John enjoys fishing, boating, and mountain biking, and spending time with his family.
Chuck Rowland, P.E.
Professional Civil Engineer
Centerville native Chuck Rowland has been a key member of the SECI team since 2011. A specialist in land surveying, he conducts much of SECI's data collection and property research and carries out all of our boundary, topographical, and land court surveys. A Certified Soil Evaluator, Chuck also possesses a strong background in marine and environmental engineering, having worked as a field engineer in large-scale dredging operations across the United States. In April 2016, Chuck passed his MA Professional Engineer Exam.
Chuck earned a B.S. in Civil Engineering from the University of Hartford in 2007. A resident of Yarmouth, he likes to sail and spend time with family and friends.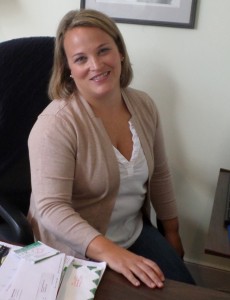 Leah O'Dea
Permit Specialist & Office Manager
Leah has worked at SECI since 2012, serving the firm in many capacities. She manages the processing of all permits and licenses from application to official recording for all town, state, and federal agencies. As SECI's bookkeeper and office manager, Leah is vital to our day-to-day operations and also heads up our marketing programs. She serves as a highly effective liaison between our clients and the engineering team.
Leah earned a B.A. in Marketing from Assumption College in 1998. She enjoys spending time with her family, exercising, cooking, boating and going to the beach.